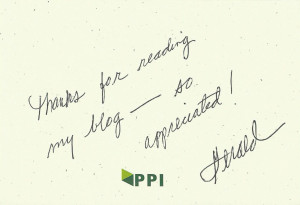 It's human nature; we all want to feel appreciated, we all want to feel that we are important to those we care about and respect. The warmest and most unique way I know to express your appreciation, sympathy, admiration, encouragement and thanks, is with a handwritten note.
Making time in your busy life to pen a few lines to a friend in a handwritten note, sealed inside a hand-addressed envelope, has the power to impress, or to caress, in a way no other form of communication can.
And don't think these touches are lost on the young people in your life. Despite email, texting and social networking, mail that is written and addressed specifically to them is appreciated.
We have printed thousands of custom cards and envelopes for businesses, churches, non-profits and individuals, but (I can't believe I'm writing this) handwritten notes don't have to be on nice stationery. In fact, it can be fun to pen a note (perhaps including some witty comment) on a napkin, a popsicle stick, book of matches, or anything out of your junk or memory drawer that you can write on.
If you do choose to have note cards and envelopes printed, make sure your name and address (and logo if applicable) go on the flap, not the face of the envelope. If intended for business, please make logos and other branding subtle. Stick with standard sizes such as A7 and rich papers for a very personal feel.
More tips:
Don't worry about your handwriting, just slow down when writing.
Keep it short and conversational.
Make it a habit. You will be well rewarded.
Warm regards,
Gerald